Wedding
Ayala and Blomquist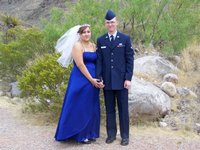 Cynthia and Eric Tucker, of Alamagordo, N.M., announce the marriage of their daughter, Cathrine Ayala, of Alamagordo, to Austin Blomquist, of Craig, the son of Cherie and Scott Blomquist, also of Craig.
The wedding was April 25 in Alamagordo. The couple plans to have a reception in August in Craig.
Austin graduated from the U.S. Air Force Academy and currently serves at the Holloman Air Force Base in New Mexico.
The couple now lives on the base and plans to take their honeymoon when Austin gets leave.