Engagement
Bennett and Copeland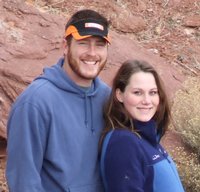 Theresa and Mark Sullivan, of Craig, and Bill Bennett, of Hayden, announce the upcoming marriage of their daughter, Sarah "Becky" Bennett, to Tanner Copeland, son of Ann and Kevin Copeland, of Hayden.
Becky is a 2003 Hayden High School graduate, and in 2008, she graduated with honors from the Institute of Business & Medical Careers in Fort Collins. Tanner graduated from Hayden High School in 2002. He attended Adams State College in Alamosa and now lives in Loveland. Both work in Estes Park.
They and their families invite the public to the wedding, which is scheduled for 2 p.m. May 23, 2009, at Hayden Congregational Church, with a reception to follow at 3 p.m. at the Exhibit Hall at the Routt County Fairgrounds in Hayden.