Chat with Terry Carwile about Craig's lodging tax issue
This Chat sponsored by:
June 29, 2010 Chat is closed, read transcript below.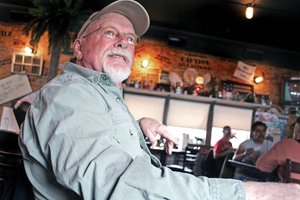 In November's general election, Craig voters will decide whether to approve a tax that proposes collecting a 6.9-percent fee on various forms of lodging within Craig city limits.
Craig City Council member Terry Carwile, who serves as an ex-officio member of the Craig lodging tax committee, will answer community questions regarding the city's lodging tax proposal that will be on the Nov. 2 ballot.
Moderator:
Hello and welcome to the Craig Daily Press online chat with Terry Carwile. I'm Michelle Balleck, online content producer for the Craig Daily Press, and I will moderate today's chat. Thank you, Terry, for taking the time to answer the community's questions about the lodging tax measure, and thank you to our readers for participating in today's chat.
Moderator:
A note to readers: Please be sure to refresh your page often throughout the chat to see the most up-to-date posts. Terry, are you ready to begin?
Terry Carwile:
Yes, ready to go!
Moderator:
Great. Let's start with an overview of the lodging tax. Can you please tell us why you decided to bring the lodging tax issue to City Council's attention?
Terry Carwile:
Earlier in the year as it became clear that the city was seeing a consistent decline in sales tax revenues, I began to think about ways for the city to increase its revenue stream. We saw declines in hunter numbers, no Triple Crown ball games, etc. It made sense to me to look at existing revenue mechanisms and see if there was something that could be done. In looking at the county lodging tax, I noted that it is restricted by state statute in terms of the tax rate and the purposes for which the dollars can be used. It looks like a logical place to start because the city, being home-rule is not constrained in the same way as the county as per the tax rate and the uses for the revenue.
When did the council approve the ballot question language to be "voted on Nov 2nd)

Terry Carwile:
The council has not yet approved the question that will be put on the ballot.
Moderator:
Can you please give us an overview of how the money collected will be divided up?
Terry Carwile:
The question that council is considering is for a lodging tax of 6.9%, broken down as follows 3% for tourism marketing, 3% for capital improvement, .6% (point six) for economic development, and .3% (point three) for beautification.
Has the committee and council finalized the proposal yet?
Terry Carwile:
The ballot question language has been approved by the committee, but not yet formally adopted by council.
Moderator:
How do you think the money collected would benefit the community in the immediate and long-term futures?
Terry Carwile:
In the near term, we probably won't see much change, assuming that the question is approved by the voters. I think you'll see more benefit from the change in the long term as more dollars accumulate and and money is spent on marketing, capital projects and so forth. Also the city should see an increase in sales tax revenues as increased marketing efforts bring more visitors.
And why is only one segment of the business community being affected by this tax? Could the CIty not just propose adding a .25% on the sales tax or do another levy type proposal so everyone contributes to these?
Terry Carwile:
A lodging tax is imposed on visitors to the city, it does not impose a burden on the local tax base.
Moderator:
What feedback have you heard from the community on the issue thus far?
Terry Carwile:
For the most part, the feedback has been positive. People are understandably cautious, though.
Moderator:
What do you mean by "understandably cautious?"
Terry Carwile:
People want to understand the specifics of the proposal, make an informed decision
Moderator:
How would the money collected be managed and what is the reasoning behind that management system?
Terry Carwile:
The Craig City Council will have the final say about how the money is spent. It is very important that we have input from community members as well.
Moderator:
Isn't there a committee structure plan in place for the administration of the funds?
Terry Carwile:
It should also be noted that money derived from the lodging tax will be placed in a special fund and not be used as direct backfill for sales tax revenue. In other words, the lodging tax dollars will not go into the city's general fund.
Terry Carwile:
There is a proposal to include the lodging community, business folks and at-large members of the community on a committee to bring proposals to council
What will be the current MCTA's role in these funds?
Terry Carwile:
The ultimate fate of MCTA will be up to the county commissioners. I can see where a city- equivalent organization would have an important role in marketing our community.
Moderator:
What sort of capital improvement projects would you like to see the money go toward?
Terry Carwile:
I think some sort of convention/community center would be a good idea. I think we have an opportunity to address a niche market in terms of smaller convention business. I'd also caution that we should make sure we have a solid fund to work with in evaluating potential capital projects.
Moderator:
What's the next step for the city if the issue does not pass?
Terry Carwile:
If the voters don't approve the question, we'll have to basically start over looking at alternatives. I prefer to be optimistic, though.
This Tax will increase the cost of doing business when their vendors use our loding for jobs at Tri-State, Daily Press, etc.
Moderator:
What response do you have to Taxpayer's concern?
Terry Carwile:
I don't share that view. In doing background research, the Colorado State University study done for Custer County states that "it is considered unlikely that potential visitors know whether or not a community has a lodging tax and would make a decision whether to visit a community based upon its lodging tax, particularly since they are so commonplace".
Moderator:
I think Taxpayer's concern is the increased cost for local businesses to provide lodging for job candidates, contractors, etc.
Terry Carwile:
I suppose that could be true, but in the long run, I think the benefits will far outweigh any potential costs of that sort. If we can market the community successfully and make the community more attractive for visitors, we should see more opportunities for businesses to lodge potential employees. I think the investment is worth it
Moderator:
Well our time is up. Thank you so much, Terry, for taking part is this online chat. Do you have any final thoughts you'd like to share?
Terry Carwile:
Please feel free to contact me anytime, my number is in the book. I'd be happy to discuss the proposal over coffee or what have you.