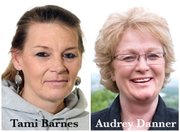 Audrey Danner (incumbent) is a Republican candidate for Moffat County Commission, District 2, on the Aug. 10 primary ballot. Tami Barnes is a write-in candidate for the general election on Nov. 2.
Tony St. John, another candidate who will appear on the Aug. 10 primary ballot, declined offers to participate in this chat.
Barnes and Danner will answer community questions regarding their candidacies, the election, roles of a county commissioner and more.
This chat has already taken place. Read the transcript below.
Moderator
Hello and welcome to the Craig Daily Press online chat with Tami Barnes and Audrey Danner, candidates for Moffat County Commissioner, District 2. I'm Michelle Balleck, online content producer for the Craig Daily Press, and I will moderate today's chat. Thank you for taking the time to answer the community's questions about your candidacies, Audrey and Tami, and thank you to our readers for participating in today's chat. Also, I like to mention that Tony St. John called me this morning to indicate he would not be participating in today's chat as planned.
A note to readers: Please be sure to refresh your page often throughout the chat to see the most up-to-date posts.
Tami, Audrey, are you ready to begin?

Commission_Candidates

Audrey: Yes, I am ready. Let's begin.
July 29, 2010at 5:03 p.m.
Commission_Candidates
Yes, I am ready to go, thanks.

July 29, 2010at 5:11 p.m.
Moderator
Tami and Audrey, to be clear to readers who is answering these questions, please preface each of your answers with your name. Also, to be fair, I will ask that you two take turns answering first. For this first question, I will ask that Tami answer first and Audrey second:
What spurred you to run for Moffat County Commissioner?
July 29, 2010at 5:12 p.m.
Commission_Candidates
Tami: I decided to run for Commissioner after HB-1365 passed, along with a few other things that have been voted on by the COmmisoners without any explanation as to why.
July 29, 2010at 5:14 p.m.
Commission_Candidates
Audrey: I truly enjoy this job. My current appointment (since Dec 2008) to the Board of Commissioners has a record that demonstrates i will listen to a wide variety of interests, find out what I do not know about and make a thoughtful decision. I will continue serving the citizens in this manner.
July 29, 2010at 5:18 p.m.
Moderator
A reader, under the user name csualum, posted a couple of questions in one entry. So I am going to break them up individually. Audrey, please answer first:
The county is facing budget cuts. What are the commissioner's cutting from their budget?
July 29, 2010at 5:18 p.m.
Commission_Candidates
Audrey: The commissioners have been working on a multi year budget processs that prioritizes county services since last year. Jan. 2010 we began the year by discussing our priorities, talking with department heads, elected officials and employees to determine how we could decrease our budget again this year by about $3 Million dollars. We know we can create some efficiencies, decrease some expenses and still operate all the county services. Prior to budgets being due, we asked for individual meetings with departments and listened to their ideas for budget reductions. Last week at the dept. head meetings we shared all of those ideas - no decisions being made - so each dept would know what the other might be considering. We gave the commissioner ideas to department heads and will wait for their budgets to be turned in this week.
We had many services the citizens have come to expect. I know that government is not the answer to all of our 'needs'. I want to provide services for our county and reduce our budget to meet our income. This will take working with all departments to make this happen.
July 29, 2010at 5:25 p.m.
Commission_Candidates
Tami: That is a question I cannot answer at this time as I am not a Commisioner. I would however go about cuts the same way the Commissioners are doing now.
July 29, 2010at 5:28 p.m.
Moderator
Tami, please answer first:
In the discussions about budget cuts, would you be open to a salary reduction for commissioners and other department heads as an option for savings?
July 29, 2010at 5:29 p.m.
Commission_Candidates
Audrey: If the reader is asking about the board of commissioner individual budget, I would note we will be more frugal overall, are looking at less travel, less office supplies we will drop some of our memberships and I will take a payroll decrease if we ask employees to do the same.
July 29, 2010at 5:31 p.m.
Commission_Candidates
Tami: Most diffenatly! Just because someone has a title does not mean that should expect pay. I do not even know how much a commisoner makes at this time and don't care due to the fact I am running to give a voice to voters not a paycheck. To keep this County in the black, everyone should be willing to give a little to get a lot back in return.
July 29, 2010at 5:33 p.m.
Commission_Candidates
Audrey: yes, I will reduce my pay accordingly. Some department heads are also elected officials and we would need to have that conversation with them. This is not my first method of reducing the budget
July 29, 2010at 5:34 p.m.
Moderator
The reader csualum's second question. Audrey, please answer first:
How important is the Natural Resources Department to the citizens of the county? It seems that much of what this department does is ineffective at the state and federal level. Do you agree or disagree?
July 29, 2010at 5:36 p.m.
Commission_Candidates
Audrey: The economy of our county is based on our natural resources - from water, soil (ag), coal, oil and gas. At this point with the political landscape, we are reacting to legislation, arbitrary decisions and a philosophy of using less of our natural resources. We acted immediately with HB1365. We filed a request for a social/economic impact with Colo Dept of Public Health and Environment Air Quality Control Division as this legislation was called 'Clean Air...' This was just declined. I have talked to the PUC about their rulemaking. The Vermillion Basin 1% drilling decision was developed by 'Cooperating Agency' Agremeent which is a federal term with specific requirements and was declined after more than one year of waiting for a signature. Last April Jeff Comstock of Natural Resources Dept and I spoke directly with Sec'y Ken Salazar and Ron Carleton requesting a signature on the Resource Management Plan and stayed for 45 minutes with questions and discussion on the natural resources of Moffat County. Sen Al White and Rep Randy Baumgardner talk with us often about legislative concerns.
Our Natural Resource Dept is essential to researching and understanding how we can best use our natural resources and protect our environment. The Land Use Board is an important committee to provide outside information on environmental issues, also.
This Dept.also handles the mineral leases for the county in coordination with Dan of the Museum. If you want to know what happens in this department, call Jeff Comstock or myself.

July 29, 2010at 5:49 p.m.
Commission_Candidates
Tami: The Natural Resource Dept, is needed. They let us know how much, where and why we have this dept. In my opinion, it is the job of the Commissioners to push it to the state and Federal levels. I agree that it does seem that way and I would push for more input from this dept. so I could be well armed when I go before the State officals.
July 29, 2010at 5:49 p.m.
Moderator
Tami, please answer first:
July 29, 2010at 5:50 p.m.
What are your goals to change things in Moffat County if you are elected commissioner? What awareness do you have about the limitations placed on what the commissioners can and cannot do according to law?
July 21, 2010at 9:12 p.m.
Commission_Candidates
Tami: My plan is to bring back as many of our Natural Resouces, as possible, back into play. To do this, will require the help of the Commisioners from other counties as well. Along, with that, I plan on bring a voice to the voters. They have been ignored for so long that they no longer feel that have a say as to what is happening to them. I also plan on bringing back the State and Federal COnstitutions back into our lives. Our elected officals, not just at the local levels, seem to have forgotten about. Yes, I am quite aware of the limitation that are put on Commissioners from our State Constitution.
July 29, 2010at 5:59 p.m.
Commission_Candidates
Audrey: I will continue acting as I have for the past 20 months. The commissioners set goals ffor 2011 to efficiently offer services at the highest level possible to the citizens in line with the revenue we expect without raising taxes. I intend to continue improving the way we as commissioners talk to our citizens - via press, the radio, our web site. We have begun improving our web site that will help citizens access more information quickly. Communicating our decisions is an important part of our job. I will keep the good relationships with the media, as they are a big help to getting the word out to citizens.
Communicating with our business and industry officials (thru Yampa Valley Economic Development Council, Craig Moffat EDP, Craig Chamber and others will help us understand the local viewpoint.
Commissioners do have limitations and a significant amount of responsibility - I take both seriously.
Other resources I use are:
1. The county attorney and Colorado Revised Statute books are resources I use to act in accordance with the law.
2. Colorado Counties Inc (CCI) and CTSI offer information, also.
July 29, 2010at 6:03 p.m.
Commission_Candidates
Tami: If you take a look at my website: barnesformoffatcounty.com, you can also see my five step plan as well as what I see going wrong from a local stand point.
July 29, 2010at 6:04 p.m.
Moderator
This question comes from reader Dcatt13. Audrey, please answer first:
what will you do to better our community and our county PAST craig city limits?
July 29, 2010at 6:05 p.m.
Commission_Candidates
Audrey: We must pay attention to all of the county as a whole, as decisions in the City of Craig for instance affect all of Moffat County.
If the reader is concerned about outlying communities - The commissioners will continue to meet in Dinosaur for board meetings. We are going to Maybell to discuss their budget needs so the community can be involved in that discussion.
We must act decisively on our economic situation and I will continue to be involved in ways to improve our economy knowing our natural resources are key.
There are several discussions going on about innovative ways to improve our entrepreneurial activity in Moffat County. I understand the importance of small business to our local economy and know many businesses are 'small' and drive our economy, also.
July 29, 2010at 6:11 p.m.
Commission_Candidates
Tami: This is where "an open doors" comes into play. I would like to have Commissioner meeting held at lest once a month a more convienent times, so that, the 'common man' is allowed to attented along with more interaction with the people. The voters need to know that they are important to this community and it is ok to talk with elected officals and know that they are heard.
July 29, 2010at 6:13 p.m.
Moderator
Tami, please answer first:
Are you personally in favor of putting a question on the November ballot about allowing medical marijuana dispensaries in unincorporated parts of the county?
July 29, 2010at 6:14 p.m.
Commission_Candidates
Tami: Yes. This something that the voters need to vote on. I feel that by allowing the voters to deceide on this question, there will be less issues arise in the future. The voters must be included in something this important and it is not something that three people can decide what is or isn't good for the county.
July 29, 2010at 6:18 p.m.
Commission_Candidates
Audrey: The November ballot question re: Medical Marijuana Dispensaries is one way we can decide.
We are waiting on the state to determine some regulations before making that final decision about putting this on the ballot. The State does not have all of their regulations in place that we will have to follow if we do not ban dispensaries at the local level.
I know that is a sensible way to proceed at this time. We do not have all of the information necessary to make a decision at this time, but we will be making a decision soon. We will inform the citizens of our decision and why we made such a decision.
July 29, 2010at 6:19 p.m.
Moderator
Audrey, please answer first:
What's your opinion of this race? How do you think you stand in the race?
July 29, 2010at 6:20 p.m.
Commission_Candidates
Audrey:
The August 10 Primary will let all of us know 'where I stand in this race'. I believe in this process of campaigning and election and look forward to a new term. My web site www.AudreyDanner.com has information on many topics for readers to understand fully my position.
Sorry - I had an electrical glitch, so a bit of a delay.
July 29, 2010at 6:29 p.m.
Commission_Candidates
Tami: There are three people with three very different thoughts on how this county should be run. That is a good thing as it gives the voters options as to where they want to take the County. i also think it is time for someone who is part of the county to take a seat at the table to speak for the people that live and work here, as I do. I live in my district as well as work in it. My husband is a miner as well as a rancher, so I know where the common person is coming from.
As far as where I stand, I feel as if I am holding my own. Looking at the hits from my website, the phone calls, and people stopping me to talk, I feel I am in a good place.
July 29, 2010at 6:29 p.m.
Moderator
Tami, please answer first:
What's been the most surprising, interesting or daunting part of running for political office for the first time?
July 29, 2010at 6:30 p.m.
Commission_Candidates
Tami: The most surprising thing is all the support I have gotten from complete strangers wanting to know what they can do to help me win. The most interesting thing has been how much I am learning and will continue to learn about people and how they think. The most daunting has been the paperwork just run.
July 29, 2010at 6:33 p.m.
Commission_Candidates
Audrey: My biggest surprise during the campaign came when I announced and people began calling with ideas to help me campaign, asking for signs and offering ways to work with me. I will continue to speak honestly with people and learn new ideas every day! The most daunting task is the time at the end of my work day to walk door to door in many neighborhoods and respond quickly to the emails, phone calls etc. A wonderful challenge!
July 29, 2010at 6:35 p.m.
Moderator
Audrey, please answer first:
When visiting with voters, what have residents expressed as their primary concerns for the county?
July 29, 2010at 6:35 p.m.
Commission_Candidates
Audrey: The primary concerns expressed include: 1. 'how can we turn our economy around?', 2. "whyis the state government going after our coal industry' 3. 'how can we stay out of the way so business can prosper?' , 4.'Why did not we know that Vermillion Basin decision was coming?' and 5. 'will we cut the pay of county employees?' (and they usually follow up with: 'well, most places are, but I hope you don't have to cut employee pay in Moffat'. People are concerned and I will listen to those concerns and use my commissioner position to improve Moffat County social, economic and environment future.
July 29, 2010at 6:41 p.m.
Commission_Candidates
Tami: It comes back to HB-1365 and our local resources being shut down. Why our elected officals have not done more to keep the working man in jobs and the local econmy going. I have a lot contact with the miners and ranchers in this community and they are all wondering if they don't matter as much as the white collar people do. We all feel the same way, the miners, small businesses, and local resources are what made Moffat County so why hasn't there been more of a fight to keep those things going and keep Moffat County as our homes.
July 29, 2010at 6:42 p.m.
Moderator
Tami, please answer first:
What makes you more qualified than your opponents for this position?
July 29, 2010at 6:44 p.m.
Commission_Candidates
Tami: The question should be what makes me less qualified and the answer is nothing. I am a small business owner, I listen to people and their concerns and I know right from wrong. I just fill it is time to let the people have a voice and not feel like they are not heard. I have a long bookkeping history along with many years of upper level management skills. I know, by becoming a commissioner, I will have to learn a lot more than I know now, but I am willing to do that for the people and the County. Moffat County is my home and I want to do whatever it takes to keep it that way.
July 29, 2010at 6:49 p.m.
Commission_Candidates
Audrey:
I currently serve as commissioner for District 2. That experience is helpful.
Before being appointed as a commissioner, I worked for Yampa Valley Partners providing social, civic, economic and environmental data and information, so I have a good working knowledge of this information. Our organization hosted regional (Routt, Moffat and Rio Blanco) county discussions on a variety of topics, so I have many contacts to ask for help, listen to their suggestions, and know they will take my call as we have worked together in the past.
My most important quality is that I will work hard to serve Moffat County citizens.
My volunteer work in Moffat County since 1974 includes setting up a school district group to help parents be involved at the high school level, serving on United Way board for 11 yrs and now I have Compassionate Friends to work with.
July 29, 2010at 6:51 p.m.
Moderator
Well our time is up. Thank you so much, Audrey and Tami, for taking part is this online chat. Do you have any final thoughts you'd like to share?
July 29, 2010at 6:51 p.m.
Commission_Candidates
Tami: Thank You for having me. Voters just need to remember to vote with what is in their hearts. I am 'For the People, From the People, By the People'.
July 29, 2010at 6:53 p.m.
Commission_Candidates
Audrey: Thank you to the Daily Press for hosting this session - another way to communicate! I appreciate Tami's comments and know we will see each other at the next forum.
www.AudreyDanner.com or Facebook "Audrey Danner for Moffat County Commissioner" has information for those interested.
Please vote on August 10th.
Thanks to the citizens that read all of this. Audrey Danner
July 29, 2010at 6:54 p.m.