Chat with Robert Razzano and Carol Scott, candidates for Moffat County assessor
This Chat sponsored by:
July 28, 2010 Chat is closed, read transcript below.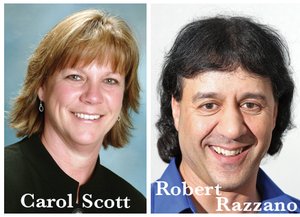 Carol Scott, Moffat County chief deputy assessor, and Robert Razzano, Moffat County treasurer, are the Republican candidates for Moffat County assessor on the Aug. 10 primary ballot.
Scott and Razzano will answer community questions regarding their candidacy, the election, roles of the assessor and more.
Moderator:
Hello and welcome to the Craig Daily Press online chat with Robert Razzano and Carol Scott, candidates for Moffat County assessor. I'm Michelle Balleck, online content producer for the Craig Daily Press, and I will moderate today's chat. Thank you for taking the time to answer the community's questions about your candidacies and thank you to our readers for participating in today's chat.
A note to readers: Please be sure to refresh your page often throughout the chat to see the most up-to-date posts. Carol and Robert, are you ready to begin?

Candidates:
Robert: Yes, thank you.
Candidates:
Carol - yes
Moderator:
Robert and Carol, to be clear to readers who is answering these questions, please preface each of your answers with your name, as you've done. Also, to be fair, I will ask that you two take turns answering first. For this first question, I will ask that Robert answer first and Carol second:
What is your education back ground, including your appraisal experience?
Candidates:
Robert: I graduated from Moffat County HIgh School and attended the University of Northern Colorado. I worked for 11 years in the Assessors Office as the Senior County Appraiser which included completing tested courses in residential valuations, cost, market and income approaches to commercial valuations, vacant land valuations & subdivision discount valuations which included the Marshall & Swift component breakdown of property characteristics. During the time I was county appraiser we completed and passed the State standard audit on five full county reappraisals.
Candidates:
I have a Bachelor of Science degree in Range Management from Colorado State University and am a registered appraiser in Colorado (2003). Since being employed in the Assessor's Office, I have taken over 400 hours of coursework related to assessment and appraisal. My appraisal experience is all related to the Assessor's Office and includes business personal property, mobile homes, residential land and improvements, and agricultural property. I have 13 years of experience in the office and have been responsible for other duties besides appraisal work including all administrative functions, training and supervising staff. As the Deputy Assessor I work with the current Assessor on issues such as the budget and abstract and certification.
Moderator:
Carol, please answer this next question first:
Other than working for the county what other job experience have you had?
Candidates:
Oops, forgot to identify myself...Carol.
Candidates:
Carol - After graduating from college, I moved to Craig and worked seasonally five years at Colowyo Coal in the Reclamation Department doing vegetation, soil and water studies and reclaiming mined land. I worked at the Hayden airport and coached high school volleyball and basketball in the 'off season'. I worked for 3 years in California for an environmental consulting firm that conducted underground storage tank investigations where I worked my way from an adminstrative assistant to a project management position. I have general office experience/payroll/bookkeeping, etc from working at APH Construction for three years prior to starting employment in the Assessor's Office.
Candidates:
Robert: I have dedicated the last 29 years of my career to the residents of Moffat County. I have coached Craig Youth Baseball, AAU Basketball and I am currently assisting with the High School Basketball team.
Moderator:
Robert, please answer first:
Colorado Statutes require that any appraiser who works for the county must have an appraisal license, registered thru the Division of Real Estate Appraisal agency, Do you have such a license?

Candidates:
Robert: I do not have a license at this time however I did during the 11 years I was an appraiser for the Assessors Office. It is not required for the Assessor to have an Appraisal License in Colorado.
Candidates:
Carol - Yes, I have been a registered appraiser in the State of Colorado since 2003 and kept my license current through completion of required continuing education courses. I feel that this licensure is critical for an Assessor in that they can particpate in all appraisal functions of the office. It lends credence to the work of the office as a whole. Assessor's Offices with small staff, such as ours need an Assessor that is legally and ethically able to value property.
Moderator:
Carol, please answer first:
I understand that the Assessor has a small window of determining the percentage of taxes from assessed value of property. I also understand that the current Assessor has always gone for the highest level possible. Where do you stand?
Candidates:
Carol - Assessor's throughout our state are required to meet statistical standards mandated by law. Bascially, this standard is within 95-105 percent of the market value of property. Since I have been involved with the residential appraisal of the county, our valuation has been in the middle of the road, so to speak. Last year our value was approximately 96%. Please note I am speaking strictly of residential property as that is what I value. I believe in analyzing the data in an unbiased manner and valuing property as close to what the market demonstrates. I don't believe I would ever shoot for a low or a high side.
Candidates:
Robert: I would always look for a fair value. One that considers the input of the taxpayer along with the data collected by the Assessors Office which will allow you to come to a final valuation agreeable to both parties. There is no reason to value properties at the highest allowable level.
Moderator:
This question is posed to Robert, but I think it's appropriate for both of you to respond to. Robert, please answer first:
Robert- If you are elected,what specific jobs do you plan to take on?
Candidates:
Robert: I would be the Moffat County Assessor. Those duties of the office require budget, personnel, and the overall day to day business of the office. I would like to concentrate on business personal property valuations, oil and gas reporting and valuations and the State Assessed valuations. Also, the preparation of the Abstract of Assessment. I want to emphasize the level of customer service that I currently profess will follow me to the Assessors Office and remain my top priority.
Candidates:
Carol - I will be a working Assessor...which is absolutely critical in an office with such a small staff. And by working Assessor, I mean actively valuing property along with other staff. I have the experience and the knowledge required. If elected, the first year I will still be responsible for valuing residential property and assisting our Chief Appraiser with the 2011 reappraisal. From there I will value the property the current Assessor values such as state assessed (our public utilities), coal mines, pipelines and oversee all the oil and gas production/personal property valuation. I have already been trained and taken coursework specific to these types of property.
I will take on the day to day functions of the office such as staff management, budget as well as working with Commissioners and other elected officials on common issues.

I will strive to continue to provide professional and personable service to the public.

Moderator:
Carol, please answer first:
What would be your short- and long-term goals in this position?
Candidates:
Carol - My short term goal would be to transition into the job and complete the 2011 reappraisal. Long term, I want to establish good working relationships with not just local business owners but with oil and gas companies working in our county. Oil and gas development is an important aspect of our future and to the degree that I can be a positive force with this issue, I will. I will be supportive of staff education and development as this will provide better service to county residents and the function of our local government. Without professional development I would not be prepared for this position. In addition, I will be involved with other offices and the Commissioners in issues/problem solving.
Candidates:
Robert: Short term goal would be finalizing the next re-appraisal which will be in the Spring of 2011. Long term goal will be to assure the citizens of Moffat County get the full benefit of all services provided in the Assessors Office.
I will continue my positive working relationships with all residents, businesses and oil and gas companies that I have established throughout my service to Moffat County citizens.
Moderator:
Robert, please answer first:
What do you think will be the biggest challenges for the assessor in the coming years?
Candidates:
Robert: The decreasing level of production and activity in the oil and gas field is probably the biggest challenge. The everchanging valuations in State Assessed property can lower our overall County valuation by millions of dollars and affect the revenue generated by the County. Also property owners and business owners in the struggling economy is a large concern. The commercial business owners are affected by the 29% valuation level on their improvements and also the high amount of personal property tax they pay.
Candidates:
Carol - The challenges from year to year and day to day are much the same in that staff is always meeting deadlines.
County revenue is dependent on property values/taxes. Over 76% of our county value is in public utilities and natural resources (oil and gas, coal). The value of these properties tends to fluctuate, making budgeting a challenge from year to year.
The Assessor's Office is charged with valuing all of this property fully and equitably in order to provide revenue for the services the county is mandated to provide.
If the economy does not improve in the coming years, our county, like all others will be facing declining revenue and be forced to cut services and possibly employees. Again, this is why an Assessor with my experience will be of value.
Moderator:
Carol, please answer first:
What makes you more qualified than your opponent for this position?
Candidates:
Carol - I have a current appraisal license which permits me to actively value residential and agricultural property in the county. I have been instrumental in three successful reappraisals. The most important distinction is that I have performed almost all of the duties within the office from adminstrative tasks and appraisal work. I have established relationships with other Assessors throughout the state and staff members at the Division of Property Taxation, which will be valuable in terms of running the office at the highest level. My communication skills are strong, which is very important in this position.
I can honestly say that I have a passion for this work and take my duties very seriously. Accountability to co-workers and the residents of Moffat County is important to me and I will work very hard to be an excellent Assessor.
Candidates:
Robert: I was born and raised in Moffat County. I have a vested interest in Moffat County. I have the background & knowledge of both Assessor and Treasurer's office which will be very beneficial to the residents of Moffat County. The residents here know me and know how they will be treated and the quality of service they will receive I have 29 years of service with the County which includes 11 years as the Senior County Appraiser and eight years of successful department head leadership. My work ethic and dedication to the job will not change.
Moderator:
Well I think we'll go ahead and wrap up. Thank you so much, Robert and Carol, for taking part is this online chat. Do you have any final thoughts you'd like to share?
Candidates:
Robert: Thank you Michelle. I would encourage everyone to vote on August 10, 2010. Your support would be greatly appreciated.
Candidates:
Carol - Yes, in closing I would like to say that I could not be more committed to this county had I been born and raised here. I have chosen to make this my home and want to be a positive force in the community. Therefore, I volunteer with two local non-profits, volunteer each year with the 9-Health Fair, coach youth sports and serve on the Moffat County Planning and Zoning Board. I have been fortunate that the county has invested in my education and training for 13 years and sincerely want to return that investment.
Thank you Michelle and the Craig Daily Press for this opportunity.
To the voters of Moffat County, I would appreciate your support and vote on August 10th.