Chat with Tom Mathers, candidate for Moffat County Commission, District 3
This Chat sponsored by:
July 27, 2010 Chat is closed, read transcript below.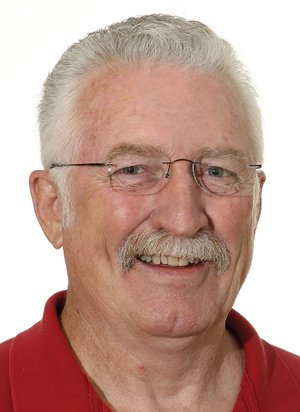 Tom Mathers is the Republican incumbent candidate for Moffat County Commission, District 3. Mathers will appear on the Aug. 10 primary ballot with Republican candidate Frank Moe, owner of Best Western Deer Park Inn & Suites.
Moe declined offers to participate in this online chat.
Mathers will answer community questions regarding his candidacy, the election, roles of a county commissioner and more.
Moderator:
Hello and welcome to the Craig Daily Press online chat with Tom Mathers, candidate for Moffat County Commissioner, District 3. I'm Michelle Balleck, online content producer for the Craig Daily Press, and I will moderate today's chat. Thank you for taking the time to answer the community's questions about your candidacy, Tom, and thank you to our readers for participating in today's chat.
A note to readers: Please be sure to refresh your page often throughout the chat to see the most up-to-date posts. Tom, are you ready to begin?
Tom Mathers:
I'm ready and thrilled to be here!
Thanks Michelle!
Moderator:
Great! We appreciate you being here. First question: What spurred you to run for re-election?
Tom Mathers:
The state of the county, being in a national recession, we as commissioners have set aside funds to keep this county moving forward for the next several years. Tough times require tough decisions, and I am a man who can and is making those decisions.
Moderator:
We have a few reader questions (keep them coming!) up next. One user posted a couple of questions in one submission, so I'll let you answer those one at a time.
Candidates have stated the county is facing budget cuts. What are the commissioner's cutting from their own budgets and why?
How valuable is the Natural Resources Department to our citizens? It seems that ultimately the work this department does is ineffective at the state and federal level. Do you agree or disagree?
Tom Mathers:
One of the commissioners' priorities has always been roads. But, we are cutting our mag water program in half, which is a $250,000 cut. Should we have to cut wages 5%, I will take the same or bigger cut out of my paycheck. We are also combining departments to keep the services as high as we can at a lower cost.
2nd Question...
As Thomas Jefferson once said, "From natural resources comes all our wealth". Without natural resources Moffat County would be no bigger than a match head. This department is gaining Moffat County revenue at a time when we are looking so hard to save money and make cuts. It is hard to be effective on a state and federal level when their values are so different than ours.
What are your true thoughts on Medical Cannabis?
Tom Mathers:
Medical Cannabis has its place. Colorado citizens voted to make it legal. The question is how many dispensaries do we need in Moffat County? There have to be regulations put in place so that medical cannabis can be used like the voters intended.
Moderator:
Are you personally in favor of putting a question on the November ballot about allowing medical marijuana dispensaries in unincorporated parts of the county?
Tom Mathers:
Should the state not come forth with any guidelines, I feel it would be good to get community input via a ballot question. At this point, I have had one person in Moffat County talk to me about this issue and I don't believe there has been enough public input. Call me or stop down and please let me know your feelings. I'm no more than a spokesman for our residents.
Moderator:
What would be your top priorities in an additional term?
Tom Mathers:
Make the goverment the size that taxpayers can afford. Taxes shouldn't be increased to grow goverment. Goverment should fit what taxpayers can afford. My priority is to make sure that taxpayers receive the highest level of services we can give. It is also my hope that in the next administration we can get our natural resources back on track and bring back much needed jobs.
Moderator:
When visiting with voters, what have residents expressed as their primary concerns for the county?
Tom Mathers:
Voters would like to see less big goverment rules and regulations. The biggest thing is jobs. Lets face it we were set to go through this recession almost unaffected. If it weren't for the rules and regulations that the govenor placed on the oil and gas industry we would be thriving. It shows what happens when we are hooked to one industry for our economic security. Residents are looking for ways to stay alive. From this day forward when I hear the word "change" I'm going to be very leery.
Moderator:
Can you tell us how the county commission is working against Colorado House Bill 10-1365, also known as Clean Air, Clean Jobs Act, as well as the Bureau of Land Management's decision to ban drilling in Vermillion Basin?
Tom Mathers:
We joined forces with the coal industry and sent a letter to the clean air council and asked for them to do a socio-economic study on jobs in our area that would be effected hoping we could slow this bill down with the PUC until we got a new administration. We were denied but we are not willing to stop there. We are willing to take every avenue to fight this and do whatever it takes. These are local job in our economy that we need to try and protect
In reference to th BLM's decision. We talked to John Salazar. He suggested that we write a letter to his brother Ken asking him to take into consideration the effect that this bill would have on the people of Moffat County and Colorado. There is a lot more to talk about on this issue. It is still ongoing. We've gone head to head with Ritter on this issue and we will go head to head with the BLM if we need to.
Moderator:
Do you think the county should work to create incentives for oil and gas companies to come here?
Tom Mathers:
If the resources are here, which we know they are, they will come. And our policies already allow for responsible drilling and reclaimation proceedures.
Moderator:
Can the county government do anything more to encourage those companies to come here?
Tom Mathers:
Not while the state still regulates them so excessively. They will be here when the price and demand for oil and gas get high enough.
Moderator:
What's your opinion of your race for commissioner with Frank Moe? How do you think you stand in the race?
Tom Mathers:
Frank Moe runs a good business and I wish him the best, but this is a tough time for our county and Frank doesn't have the ability to make the conservative decisions needed. This is where experience counts. I've known Frank for years and he's a sheep not a shepherd. I'm ready to lead Moffat County in the next four years.
Moderator:
Frank has spent $9,545 to your $658 on his campaign, as of July 15. Can you explain the difference in campaign expenditures?
Tom Mathers:
First of all, being fiscally responsible is my top priority and asking folks to contribute to my campaign is out of the question. Moffat County citizens are feeling the brunt of this recession, therefore I'm not going to ask them for their hard earned money. People in Moffat County know me and know my values. I have the experience we need. Frank is unknown and new to goverment. He needs to spend money so that people know who he is and what he is about.
Moderator:
One last question: What makes you more qualified than your opponent for this position?
Tom Mathers:
Experience. Committment to the community that I was born and raised in. My ability to weigh all sides of an issue and make a decision. I call a spade a spade and stand behind the choices I make. I've spent 8 years as a Moffat County commissioner, in flush times and hard times, and I know what it takes to get that job done. I'm proud of the way I've served Moffat County residents and believe I'm the best candidate to get us through the next four years and back into, what I hope, are better times. I am a business owner and a farmer/rancher. I understand the issues that Moffat County residents face and I'm not afraid to go to bat for Moffat County against bigger government.
Thank you Michelle, and the Craig Daily Press, for hosting this forum and thank you to those who took the time to participate. I would appreciate your support in the Aug. 10 primary election and if I didn't address your question or you have any concerns, please call me or stop by anytime.
Moderator:
Actually, we had another reader question come in for you, Tom.
According to the BLM there are already over a million acres leased to oil and gas companies and only 15% of that land is being drilled. Why is it so important that Vermillion Basin be opened up to drilling if we already have a ton of land leased and just sitting there?
Tom Mathers:
We'd like it to be available for future development when we need it. Just because we lease it doesn't mean it's going to be drilled on. BLM is government ground that belongs to everyone. Therefore, it should be treated as equal to all of us. If we drill on 1% and play on 99%, isn't that more than fair? Plus, more and more residents are asking for more and more services and want to pay fewer taxes. Drilling leases are a huge source of income to cities, counties, the state, the federal government, schools and hospitals, therefore, isn't this a fair and balanced decision that would have something in it for everyone?
Moderator:
Well I think we'll go ahead and wrap up now. Thank you so much, Tom, for taking part is this online chat. We appreciate your time and your candor.
Tom Mathers:
My pleasure.