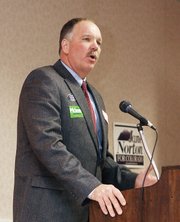 Tim Jantz is the uncontested Republican candidate for Moffat County sheriff on the Aug. 10 primary ballot.
Jantz will answer community questions regarding his candidacy, the election, roles of the sheriff and more.
This chat has already taken place. Read the transcript below.
Moderator
Hello and welcome to the Craig Daily Press online chat with Moffat County Sheriff Tim Jantz, who is running for re-election. I'm Michelle Balleck, online content producer for the Craig Daily Press, and I will moderate today's chat. Thank you, Tim, for taking the time to answer the community's questions about your candidacy, and thank you to our readers for participating in today's chat.
A note to readers: Please be sure to refresh your page often throughout the chat to see the most up-to-date posts. Tim, are you ready to begin?

Tim Jantz
Thank you for having me on-line
Moderator
Thanks for joining us. Let's get started.
What spurred you to run for office four years ago and why are you running for re-election?
July 19, 2010at 5:01 p.m.
Tim Jantz
I was motivated to try and make a difference in my community & in the field of law enforcement. I felt a change was needed in the Sheriff's Office and I wanted to make a difference. For running for re-election, I feel that we have made a number of changes and I would like to continue with those.
July 19, 2010at 5:03 p.m.
Moderator
How do your campaign efforts this year compare to those of four years ago?
July 19, 2010at 5:05 p.m.
Tim Jantz
There not as intense as they were four years ago, I'm seen around the community so often and people contact me on a regular basis. When I visit with people regarding my campaign, most just tell me, they already feel comfortable getting ahold of me when they need me and they don't have too many concerns.
July 19, 2010at 5:08 p.m.
Moderator
What would you consider your biggest accomplishments over the last four years?
July 19, 2010at 5:08 p.m.
Tim Jantz
Being available to the citizens on a regular basis. Retaining the wonderful staff at the sheriff's office and working hard to keep ACET going.
July 19, 2010at 5:10 p.m.
Moderator
What are your goals for the next four years? And what do you plan to do differently than you have the past four years?
July 19, 2010at 5:11 p.m.
Tim Jantz
Some of the goals remain the same, tough enforcement against drugs, operate within my budget limits, which will be a huge challenge, retaining qualified staff, and remaining approachable to the public.
July 19, 2010at 5:13 p.m.
Moderator
Can you explain what your budget situation is and why that will be one of your challenges?
July 19, 2010at 5:15 p.m.
Tim Jantz
I'm not sure how much of the budget shortfall has been presented to the public, but the commissioners had asked for a ten percent cut across the board from each county office. That could equate to two patrol deputies from the sheriff's side of the budget. We run at bare bones minimum patrol staff and try to meet the law enforcement needs of the community in the second largest county in the state. To lose patrol staff would severely effect our abiliby to meet those needs.
July 19, 2010at 5:18 p.m.
Moderator
So what are you going to do?
July 19, 2010at 5:20 p.m.
Tim Jantz
We have looked at all available options in operating and are making as many cuts as possible, but as anyone knows that follow our budget we already run a tight ship and return monies to the general fund. We have already told the commissioners that we can not take a ten percent hit to our budget and they may need to look at other options such as wage reductions. They (commissioners) are in the drivers seat when it comes to the budget, and we will wait for their decision and offer what advise we can to them. We are also asking for advise and input from the public in this matter.
July 19, 2010at 5:24 p.m.
Moderator
What do you think is the biggest obstacle for the Moffat County Sheriff's Office and how do you overcome that?
July 19, 2010at 5:26 p.m.
Tim Jantz
If it comes down to wage reductions, furloughs or layoffs, it will be retaining experienced and qualified staff and keeping up morale. The officers I have working for me are some of the most dedicated people I've ever had the pleasure to work with. They are community minded and really do care about the people that live here. It is hard to replace experience and that type of commitment to the community. I want to make sure the the people of Moffat County still get the service they expect, to the best of our abilities with the budget we're given.
July 19, 2010at 5:32 p.m.
Moderator
How would describe the severity of methamphetamine use in Moffat County? What about other drugs?
July 19, 2010at 5:34 p.m.
Tim Jantz
Methamphetamine use is still prevalent here, ACET is still working on as many cases as it was several years ago. Alot of users and dealers know that we are actively pursuing them, which pushes them farther underground and alot more wary within the community. That is why I pushed so hard with the Craig City Council to continue the funding for ACET, without our drug task force, we would not have near the impact that we have now. Other cheaper (if you can call them cheaper) drugs have increased, i.e. cocaine and herion have increased in use and availibility, but methamphetamine is still the drug of choice.
July 19, 2010at 5:43 p.m.
Moderator
What does capacity at Moffat County Jail look like? Is there a chance the jail might need to be expanded?
July 19, 2010at 5:44 p.m.
Tim Jantz
We our currently housing between 40 and 50 inmates per day which is down from a year ago. As many know state and federal budgets have also been cut, so we have lost some of our revenue type inmates from I.C.E and B.I.A. We have the capacity of 99 inmates and it will be many years before we have to look at anytype of expansion.
July 19, 2010at 5:47 p.m.
Moderator
Local law enforcement entities have suffered negative public perception issues this year. Is the Sheriff's Office feeling that, and how do you plan to combat it?
July 19, 2010at 5:48 p.m.
Tim Jantz
Anytime an officer makes the news in a negitive light, it effects all law enforcement agencies. Around the country polls have shown the public's lack of faith in the law enforcement community. The biggest way to combat that negitive spiral is to be open to the community, let them come visit and answer their questions. They may not always like the answers, but if you explain the law and what our obligations are and what our limitations are, most understand and accept what we do. I want to be open and available to the people of Moffat County and I want my officers to have that same philosophy and answer their questions to allow the citizens of Moffat County to feel comfortable with its county law enforcement
July 19, 2010at 5:55 p.m.
Moderator
Well our time is up. Thank you so much, Tim, for taking part is this online chat. Do you have any final thoughts you'd like to share?
July 19, 2010at 5:56 p.m.
Tim Jantz
I would like to thank the community for their faith in me and I hope to continue as their sheriff. Thank you for this on-line chat and the time given to me.
July 19, 2010at 5:57 p.m.