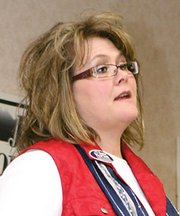 Lila Herod is the uncontested Republican candidate for Moffat County clerk and recorder on the Aug. 10 primary ballot.
Herod will answer community questions regarding her candidacy, the election, roles of the clerk and recorder and more.
This chat has already taken place. Read the transcript below.
Moderator
Hello and welcome to the Craig Daily Press online chat with Lila Herod, candidate for Moffat County clerk and recorder. I'm Michelle Balleck, online content producer for the Craig Daily Press, and I will moderate today's chat. Thank you, Lila, for taking the time to answer the community's questions about your candidacy, and thank you to our readers for participating in today's chat.
July 15, 2010at 4:59 p.m.
Moderator
A note to readers: Please be sure to refresh your page often throughout the chat to see the most up-to-date posts. Lila, are you ready to begin?
Lila Herod
Thank you Michelle...I'm ready!
July 15, 2010at 5:02 p.m.
Moderator
Great! Let's begin! Can you please explain your background and qualifications for the position of Moffat County clerk and recorder?
July 15, 2010at 5:03 p.m.
Lila Herod
In 1989 Barbara Baker hired me as her new part-time employee. Our office was just moving from the "Dark Ages" of paper and pencils to all this new modern technology. One of my very first assginments was converting the paper voter registration records to the computerized data base. So obviously my qualifications and experience for this positon has been attained over the past twenty years. As I've grown up in the Clerk's office, the job I fell into has become my life long career! I have dedicated myself to the training and education necessary to serve as the next County Clerk and I'm proud to say I have received both my state and federal certifications for election administators.
July 15, 2010at 5:10 p.m.
Moderator
Can you outline the roles and responsibilities of Moffat County clerk and recorder?
July 15, 2010at 5:11 p.m.
Lila Herod
The duties of the County Clerk's office are set by state statute and in many ways we are direct agents for the State of Colorado, working with the Colorado Secretary of State and the Department of Revenue. The responsibilities of the office range from motor vehicle registration, conducting elections, recording legal documents, issuing marriage licenses and liquor licenses and also serving as the clerk to the board of county commissioners.
July 15, 2010at 5:17 p.m.
Moderator
What spurred you to run for office?
July 15, 2010at 5:18 p.m.
Lila Herod
As a kid I don't recall ever wanting to grow up and be a "county clerk", I wanted to be a history teacher or FBI agent, so really this just happened to be a job I fell into and as I stated this job has become my life long career. With term limits, it was just natural progression that I would eventually move into this role, and I LOVE my job!
July 15, 2010at 5:22 p.m.
Moderator
In March, you resigned from your position as Moffat County chief deputy clerk because of a Hatch Act violation. What have you been up to since?
July 15, 2010at 5:24 p.m.
Lila Herod
I'm so glad you asked, because it is exciting! I just happened to "fall into" another really great and really fun job...I'm the new NAPA parts delivery driver! So you will see me driving around in the white truck with the little yellow NAPA hat on top. I am meeting so many hardworking "registered voters", and I'm feeding their dogs and kissing their babies! Could life be any better????
July 15, 2010at 5:28 p.m.
Moderator
Well good! What changes would you implement in the clerk and recorder's office, Lila?
July 15, 2010at 5:30 p.m.
Lila Herod
I've had the opportunity to work for four wonderful County Clerks, Barbara Baker, Jessie Rowley, Beverly Johnson and Elaine Sullivan. Although their styles were different they each inspired me by their passion for public service and their dedication to this office. I'm sure my management style will be different, but I intend to continue their mission to serve the citizens of Moffat County with the highest quality of customer service, integrity and transparency.
July 15, 2010at 5:35 p.m.
Moderator
The current clerk and recorder made news by coming out against increased vehicle registration fees. Do you support or oppose these fees?
July 15, 2010at 5:36 p.m.
Lila Herod
I absolutely agree with Elaine Sullivan and I also oppose these new fees. It doesn't matter if you name it a new fee, it is still a tax increase! As agents for the Department of Revenue, we must enforce the new fee schedule, but that doesn't mean we don't hear and listen to our constituents. We decided to make comment cards available to our citizens and then forward their concerns and comments to the Governor's office. Elaine took some heat from the Denver Post, because they seemed to believe this Republican County Clerk was critizing our Democrat Governor. She received tremendous support not only from our county residents, but from citizens all over the State. There were several bills introduced this year to change those late fees....could it be that the citizens of Moffat County caught Governor Ritter's attention? Who knows for sure, but I'm proud of the way Elaine handeled this issue!
July 15, 2010at 5:45 p.m.
Moderator
Statistics indicate that voter participation has been waning in recent years. As the county's top election official, what would you do to promote voting, if anything? Do you consider that part of your role?
July 15, 2010at 5:45 p.m.
Lila Herod
I believe the County Clerk has a tremendous role in this effort, and we have tried to promote and encourge voter participation in our County. I believe it was in 2002 that Colorado became the first State to allow high school students to serve as election judges. We have participated in this program with the help of Liane Davis-Kling,(Moffat County High School's government teacher). I can't explain how exciting it is to see when one of our past student judges request an absentee ballot or come in to cast their ballot on election day, or continue to serve as an election judge...it's validation that the program works and that these students recongize and honor this priviledge and responsiblity. We've also had great fun working with the Daily Press and the elementary school children by conducting mock elections.
July 15, 2010at 5:55 p.m.
Moderator
Would you be aggressive in seeking out grant funds to improve voting centers and voting equipment?
July 15, 2010at 5:56 p.m.
Lila Herod
I'm smiling and laughing out loud! I have been very agressive in seeking and recieving federal grant funds for our vote centers and voting equipment. The Maybell Community Center, Dinosaur Library and the Hamilton Hall have all been remodeled so they are handicap accessible and we recieved grant funding for the new electronic voting equipment we've been using since 2004. It is because of my role in writing and administering these grants that I fell under the Hatch Act. Even knowing what I know now, I do not regret my involvement in bringing these funds and improvements to Moffat County. If we had known about the Hatch Act, Elaine would have administered these grants herself rather than jeopardize my candidacy for county clerk. The Hatch Act is a 70 year old federal law, and I'm sure in its day had validity, but in today's economic climate it is necessary for communities to seek and receive federal grant funds. There are so many federal mandates being placed on local governments, not only on county clerk's offices, but in law enforcement, social services, education and even non-profits. I don't believe the Hatch Act was meant to jeapordize the careers of professionals in all of these fields.
July 15, 2010at 6:06 p.m.
Moderator
We know you have Lila, and I imagine you intend to continue that! Well our time is up for today. Thank you so much, Lila, for taking part is this online chat. Do you have any final thoughts you'd like to share?
July 15, 2010at 6:08 p.m.
Lila Herod
Michelle, thank you for this opportunity. I love this new technology....I just wish it would automatically correct my spelling :) Although this has been a challenging time for me, I'm grateful for the opportunities that have come my way. I've been able to dig deep into myself and evaluate the kind of person and elected official I want to be. It is my desire to serve the county with honesty and integrity, and I promise the citizens of Moffat County I will continue to work hard and continue to do so cheerfully...I've learned that if you want the best to happen, you have to make the best of what happens! Thanks again and see you at the polls!
July 15, 2010at 6:13 p.m.