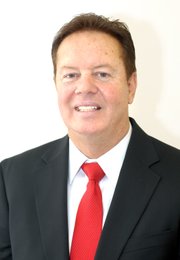 Kirk McKey, owner of McKey Chiropractic Clinic, is a Republican candidate for Moffat County coroner. McKey will appear on the Aug. 10 primary ballot with Republican candidate Larry Dalton, Moffat County Sheriff's deputy.
Dalton declined offers to participate in this online chat.
McKey will answer community questions regarding his candidacy, the election, roles of the coroner and more.
This chat has already taken place. Read the transcript below.
Moderator
Hello and welcome to the Craig Daily Press online chat with Kirk McKey, candidate for Moffat County coroner. I'm Michelle Balleck, online content producer for the Craig Daily Press, and I will moderate today's chat. Thank you, Kirk, for taking the time to answer the community's questions about your candidacy, and thank you to our readers for participating in today's chat.
Moderator
A note to readers: Please be sure to refresh your page often throughout the chat to see the most up-to-date posts. Kirk, are you ready to begin?
Kirk McKey
Yes, ma'am!

July 13, 2010at 5:02 p.m.
If my death were as such that the coroner would have to be involved, what exactly would you do and how would my family be treated during the process?
July 12, 2010at 3:22 p.m.
Kirk McKey
I would make arrangements to leave work to do the investigation. With dignity and respect I would have the deceased transported to the mortuary. I will personally come to the local home to notify the family involved and answer any questions they may have. I will be my job to represent the family, and I will do a thorough investigation of the cause and manner of death. I am a warm, compassionate person and the family will be treated with the utmost respect.
July 13, 2010at 5:07 p.m.
Moderator
Does the coroner respond to every death in the county?
July 13, 2010at 5:08 p.m.
Kirk McKey
No. There are certain circumstances such as an unattended or sudden death that require an independant investigation by the coroner. Historically, there have been around 50 such cases in Moffat County per year.
There are other circumstances outlined in detail on the Colorado Coroner's Association website, or go to www.DrMcKey.com for more information.
July 13, 2010at 5:12 p.m.
Moderator
I see. What kind of training does a coroner need?
July 13, 2010at 5:12 p.m.
Kirk McKey
All newly elected coroners are required to attend a 40-hour training session through the Colorado Coroner's Association. This one-week course is the second week in December. Coroners are required to be proficient in their duties within their first year of office.
There is also continuing education each following year.
I have already started the educational process for being coroner and have made arrangements to begin preliminary studies with the Coroner's Office.
July 13, 2010at 5:17 p.m.
Moderator
Can you please explain your background and qualifications for the position of Moffat County coroner?
July 13, 2010at 5:19 p.m.
Kirk McKey
I graduation from Logan Chiropractic College in 1976 with 4000+ hours of study including the clinical sciences (ie: anatomy, physiology, bacteriology, histology, embryology, etc).
For 31 years I have worked in a clinical setting that daily required subjective and objective assessment and diagnosis.
My knowledge of the human body combined with my work ethic makes me a strong candidate for coroner.
The Colorado Coroner's Association clearly states that the coroner's investigation is to be independant of the hospital, nursing home, state patrol, sherriff's office and police department.
July 13, 2010at 5:25 p.m.
Moderator
What spurred you to run for office?
July 13, 2010at 5:26 p.m.
Kirk McKey
I love this question!
I knew that Owen Grant was term limited and that the county would need a coroner. At this time in my life I have completed the journey of raising two children. I love learning and expanding my knowledge and am excited about learning investigative skills. I also feel that I am very compassionate with my patients and feel that would be necessary to the coroner's position. I want to continue the quality of service that Owen has provided for the past eight years.
I checked into the duties and responsibilities to gain an understanding of the office. I talked with my wife about these duties and responsibilities and she was very supportive.
Next, I discussed with my office staff how we could arrange my schedule to be available when a call comes for the coroner. We developed a strategic plan that we feel will be very efficient with my business and the demands of the coroner.
I'd like to add that the extra expense of taking the call for the coroner, which will require scheduling changes, increased man-hours and additional clinic hours that I will have to accomodate, will be at ZERO cost to the county. The expense will be absorbed by my business. If my opponent is elected, the county will have to pay for scheduling changes, additional deputies on duty and any overtime incurred.
July 13, 2010at 5:39 p.m.
Moderator
I was just going to ask about the effects to your chiropractic business. I would imagine this position would require plenty of flexibility in the coroner's schedule to be able to respond to calls. If elected, how would becoming Moffat County coroner affect your chiropractic business and how do you plan to handle that?
July 13, 2010at 5:43 p.m.
Kirk McKey
I have made arrangements so that I may respond in a timely manner. My colleagues have agreed to help with my emergency patients and my office staff will reschedule those who are willing to postpone their treatment for a short amount of time, which may require evening or weekend appointment. My patients will be accommodated at their convienience. I have a strong bond with my patients and I will continue to take care of their needs.
July 13, 2010at 5:54 p.m.
Moderator
Well our time is just about up. Thank you so much, Kirk, for taking part is this online chat. Do you have any final thoughts you'd like to share?
July 13, 2010at 5:55 p.m.
Kirk McKey
In closing, I sincerely ask for your vote. I have put a lot of thought into the demands of the coroner and know that I will be the investigator that you would want for your family.
My campaign funds are limited, so you won't be seeing any signs with my name around town. But, I invite you to call me at home at 824-3319 to discuss any questions or concerns you may have. Please visit my website to learn about my specific qualifications: www.DrMcKey.com
I deeply appreciate all of my friends who are supporting me.