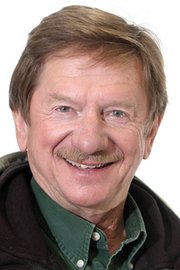 Peter Epp, owner of Epp Associates, is the uncontested Republican candidate for Moffat County surveyor on the Aug. 10 primary ballot.
Epp will answer community questions regarding his candidacy, the election, roles of a surveyor and more.

This chat has already taken place. Read the transcript below.
Moderator
Hello and welcome to the Craig Daily Press online chat with Peter Epp, candidate for Moffat County Surveyor. I'm Brian Smith, reporter for the Craig Daily Press, and I will moderate today's chat. Thank you, Peter, for taking the time to answer the community's questions about your candidacy, and thank you to our readers for participating in today's chat.
Moderator
A note to readers: Please be sure to refresh your page often throughout the chat to see the most up-to-date posts. Peter, are you ready to begin?
Moderator
Can you please explain your background and qualifications for the position of Moffat County surveyor?
Peter Epp
Yes. I began surveying in 1967 at the Saskatchewan Dept. Of Agriculture, C&D Branch and worked there until 1973 at which time I had advanced to the position of Party Chief. I then worked for CGG, a company out of Calgary, Alberta until 1975 at which time I began work for Empire Energy coal mine South of Craig. While there I started my training to become a Professional Land Surveyor under the tutelage of a Licensed Professional Land Surveyor and Professional Engineer.
I began a surveying business in Craig, Colorado in 1978 and this is where I have been employed until today.
I took the required 16 hours of exams required by the state of Colorado and became licensed in June of 1977. I also acquired my PLS in New Mexico in 2001. I have made an attempt to receive continuing education to remain current with issues confronting a Professional Land Surveyor. The New Mexico license requires continuing education.
Moderator
Can you tell us the roles and responsibilities of a surveyor?
Peter Epp
Do you mean as County Surveyor?
Moderator
Yes. Could you could explain what you think your role and responsibility would be? What duties could the county ask of you?
Peter Epp
I have spent some time talking with other County Surveyors as well as reviewing the Colorado Revised Statutes. I have been unable to determine any specific responsibilities for the County Surveyor other than as presented in the Colorado Revised statutes.
The Statutes refer to the County Surveyor Responsibilities in three Sections:
38-44-104 which refers to a case where there is a boundary dispute over a lost "corner" in where the Court may appoint the County Surveyor to resolve the dispute.
38-50-102 where is discussed that the county Surveyor may administer oaths to deputies and assistants for the faithful and impartial disposition of their duties.
38-51-107 in which there is continued discussion about boundary disputes and describes the proceedure for the restoration of a lost section corner or quarter section corner. It makes specific reference to giving the proper notice as well as the proper proceedure for referencing the restored monuments. It also refers to how fees shall be paid to the County Surveyot for this work.
Moderator
Great. So Peter, what spurred you to run for office?
Peter Epp
I have been working in Moffat County as well as other Counties. Land Survey Plats are required to be deposited in the Clerk & Recorder's Office in each of the Counties where the survey is performed since 1989 and are a great benefit for any survey that is conducted subsequent to the original survey. In Moffat County these Plats are accessible by going to the Clerk's Office, searching the records to see if one has been prepared where you are conducting your survey and then asking an employee to make a copy for you.
In Mesa County, for example, I was able to go on line and locate the Plats that have been deposited where I am currently performing a survey, download the Plat and print it for my use.
I have been scanning all or most of the Plats in Moffat County for several years and currently have between 600 and 700 plats scanned to .pdf format. My goal, to the extent that I can pursue it, is to make the Moffat County Plats available on line. This would make acquisition much easier than a trip to the Court House and save valuable employee time in the Clerk's Office. I do not know what the capabilities are for Moffat County as far as presenting the Plats on line but plan to pursue that if I am elected.
I believe that this is a valuable resource that I can contribute to the County in which I live.
Moderator
What about surveying interests you?
Peter Epp
I enjoy the challenge of boundary retracement which means that I am to "follow in the footsteps" of the original surveyor, sometimes dating back to the late 1800's as well as modern day surveyors. You come to understand the reliability of each surveyor's work and the care they took in the execution of their duties. I appreciate that a good portion of my work is in the field and involves hiking and working in the great outdoors. I also conduct a good portion of my work on my computer doing the calculations and preparing the Plats for boundary surveys as well as Subdivision Plats.
I get to have a great variety of work with clients in the oil and gas industry, coal mines,gravel mines both here and on the Front Range. I do work at the power plants and also irrigation and water projects in various parts of Colorado and New Mexico.
I must admit I am somewhat of a technology buff and enjoy learning to use new equipment such as GPS and robotic total stations. In 1981 I had 27 people working besides myself and today, with all of the new technology as well as CAD for preparing plats, one or two people can perform the work much more efficiently.
I constantly strive to come up with better ideas to do my work and that is part of the challenge as well.
Moderator
Well our time is up. Thank you so much, Peter, for taking part is this online chat. Do you have any final thoughts you'd like to share?
Peter Epp
I appreciate the opportunity to participate in the election process and to better understand how our system works.
I also appreciate that I became a U.S. citizen and the many opportunities that affords.
God bless the USA!