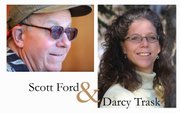 Darcy Trask, director of Craig/Moffat Economic Development Partnership, and Scott Ford, director of the Routt County Economic Development Cooperative and regional economist, are here to answer your questions about Moffat County's and the Yampa Valley's current economic situation and what lies ahead.
This chat has already taken place. Read the transcript below.
Moderator
Hello and welcome to the Craig Daily Press online chat with Darcy Trask and Scott Ford. I'm Michelle Balleck, online content producer for the Craig Daily Press, and I will moderate today's chat. Thank you to Scott and Darcy for taking the time to answer the community's economic questions, and thank you to our readers for participating in today's chat.
April 20, 2010at 4:32 p.m.
Darcy Trask and Scott Ford
Darcy: Thanks, Michelle. The Economic Development Partnership is delighted to be able to talk with you today.
Scott: Thanks.
April 20, 2010at 4:32 p.m.
Moderator
OK. We'll get this going with our first question. What is your opinion on the current economic state in Craig and Moffat County? How about the Yampa Valley as a whole?
April 20, 2010at 4:33 p.m.
Darcy Trask and Scott Ford
Darcy: We heard from Dr. Richard Wobbekind, CU Leeds School of Business economist when he was here in Craig about three weeks ago, that most of the leading indicators suggest the country may be entering recovery. He shared with us his opinion abut whether Craig and Moffat County would lead the nation in recovery, would lag, or would come out at approximately the same pace, and seemed to indicate he felt we might be at roughly the same pace. In talking with local businesses, it seems that individuals are having very different experiences - some are doing fine and some are having a very difficult time.
Scott: I think that when you look at the 64 counties in Colorado and we look at just the rural counties, there are a lot of counties that would trade for Moffat County's problems. probably the biggest impact that's happen in Moffat County — and would probably overlap in the whole Yampa Valley — we saw a collapse in consumer spending, probably hitting hat I would call the bottom in Match of 2009 and the best that we can say is we've been bouncing along that bottom with consumer spending at about $60 to $65 a day and that's had probably the largest effect in the retail sector that often gets translated very quickly into sales tax revenue and sales tax collections. We're seeing signs that the consumer's going to start spending again. So I'm optimistic. We just have to remind ourselves that we're not Lamar.
April 20, 2010at 4:39 p.m.
Moffat County has a reasonably balanced economy with a variety of sectors. Our natural resources provide the basis of several economic sectors. How can we encourage a conversation to promote a balanced approach using the natural resources or developing support industries that also responds to our political reality? Audrey Danner

April 20, 2010at 4:37 p.m.
Moderator
Readers, please refresh your page often to make sure you're seeing all the most up-to-date questions and answers.
April 20, 2010at 4:44 p.m.
Darcy Trask and Scott Ford
Scott: Thanks for your question, Audrey. The industries themselves, in the energy sector, know how to take care of themselves because the playing field that they're on is a national playing field with energy commodities. The opportunity exists for individuals who are in those businesses to spot essentially how to identify a business whatever that need may need. The Craig/Moffat Economic Development Partnership is well positioned. It helps people who are thinking of starting businesses to explore it.
April 20, 2010at 4:47 p.m.
Darcy Trask and Scott Ford
Darcy: The Economic Development Partnership has heard particularly from the coal industry prior to and after the Clean Air, Clean Jobs Act that they would like us as a community to think creatively about how we can have some influence in a situation which is primarily impacted by what is happening on the commodities and national scale. I think in addition to those resources, we are currently involved in things like Club 20 and Associated Governments of Northwest Colorado (AGNC), we may want to as a community ask the question about allocating additional resources to ensuring that those industries that provide primary jobs, like coal, like utilities and oil and gas, that we're bringing to the attention of our decision-makers at every opportunity how critical those are. At the same time we need to continue to attempt to diversify on a small scale with economic gardening (helping to start or grow local businesses by supporting small business owners and entrepreneurs).
April 20, 2010at 4:52 p.m.
Hi Darcy, Scott, Michelle, Audrey. Do any of you know how soon the bill just signed by Gov Ritter will take effect?
April 20, 2010at 4:46 p.m.
Darcy Trask and Scott Ford
Darcy: This is a complex piece of legislation that we don't fully understand yet. It is my understanding that we may not feel the effect for some time while the retrofits are happening. However, what is very concerning is the point at which the electric consumer feels the impact and may want to undo some of this, it may be too late to go back.
Scott: I would echo what Darcy said that it is complex. And likely premature to speculate what may happen. We have essentially three coal producers in the Yampa Valley. Colowyo and Twentymile that both export coal are going to have to aggressively seek other markets. And market forces will determine what the impact of this is going to be. There's going to be a push nationwide for cleaner energy. I think our coal is well-positioned to compete in that market.
April 20, 2010at 4:59 p.m.
Darcy, beyond comments of how individual business owners talking of their business, what is a common question you hear 'on the street' about our economic future? Audrey Danner
April 20, 2010at 4:57 p.m.
Darcy Trask and Scott Ford
Darcy: A common concern we're hearing throughout the business segment is "When is the access to capital going to loosen up?" Businesses hear about federal programs designed to help small business pull through but the reality is the experience they're having at their banks — even when they have the great credit history and a longterm history with their bank, is they're not able to access capital. At this time, EDP doesn't have an answer. However, we can help folks put together financial projections and create or update business plans, which will give them the best shot possible. And we do have access to a couple of small micro-loan funds that may be able to help small start-ups or existing businesses. To return to our conversation about diversifying the economy, although philosophically we may as a community be opposed to certain industry segments, we may have to take an unflinching view at where the growing segments are. An example is clean energy. There are niche opportunities. And a second example are information/technology-based industries that can do businesses from anywhere if you have adequate broadband. We don't have to like where the opportunities are right now, but the reality is there are some small businesses in America starting in those segments.
April 20, 2010at 5:06 p.m.
Hi Darcy, Scott, Audrey and Michelle. Darcy commented earlier regarded "economic gardening" in order to start or grow local businesses. How are these efforts fairing within Routt and Moffat Counties and what types of businesses are availing themselves of your assistance? Phil Vaughan.
April 20, 2010at 5:07 p.m.
Darcy Trask and Scott Ford
Scott: I'm going to jump in first. Economic gardening looks at the individual and not necessarily their business or idea as the economic asset. So what happens is the first idea that one of these developing entrepreneurs may think of is likely not feasibly nor acceptable to them once we've helped them assess the feasibility. Economic gardening works when you keep encouraging that individual to come up with another idea. And if we're doing our job right, they will. Up valley, up in Routt, which I'm going to be more familiar with, it's a numbers game. If you saw 100 individuals in a given year thinking about starting a business, when it all sifted through, probably 5 to 7 businesses would actually start. That typically would result in capitalization (new money into the economy) of around $600,000 and would create anywhere between 7 and 10 new jobs. But the value is that some of these individuals that had eventually started their businesses, that had used some of these resources for some time. So economic gardening is more committed to the individual than to the idea or the specific business. If you encourage the individual that has entrepreneurial traits, the businesses does get started.
April 20, 2010at 5:12 p.m.
Darcy Trask and Scott Ford
Darcy: Phil, Thanks for your question. We have seen about 30 folks since the beginning of the year. Sometimes we help people to not start businesses that would have not been successful. It's hard to measure the positive impact that that has in a community. All of our work with individuals in confidential so we can only speak in generalities. Typically, clients are looking to take their existing skills, which are often developed in our primary industries, and use them in a support niche opportunity.
April 20, 2010at 5:18 p.m.
Moderator
Are many businesses in Craig and Moffat County branching out to sell products online?
April 20, 2010at 5:20 p.m.
Darcy Trask and Scott Ford
Scott: Being creative in getting new customers needs to focus on customers who may never come to Moffat County. For many folks reaching out on-line seems like a silly thing to do - It is not! It is getting easier all the time for a business to have an on-line presence. A junk yard has things that folks are looking for that may only exist in that junk yard. Be creative!
April 20, 2010at 5:23 p.m.
Darcy Trask and Scott Ford
Darcy: Yes, any are, but not enough. Every business needs to have a billboard-type Web page, at the minimum, a working email address, and they need to be asking all their customers how would the customers most like to be contacted. And what I think they will find is that a surprising and growing number want their information electronically. I think an example of someone who got into the game early and seems to be doing very well with it is SpiritPass. It times like this, growing market share is critically important, so you want to talk to you customers who prefer a phone call via phone about what you can do for them. Your customers who want to stop by you need to answer the question, what problem can I solve for you? And the online market is something many businesses haven't tried to access, so that's a place where they can focus their efforts during difficult economic times.
April 20, 2010at 5:24 p.m.
Hi Darcy and Scott,
As the Executive Director of the MCTA, I see that all three organizations are closely linked (MCTA, Craig/Moffat EDP and the Craig Chamber). When talking about 'economic gardening' and tourism, how do you effectively partner with all three while keeping the autonomy of each, whilst enhancing the delivery of a myriad of services to the end user (tourist), stakeholders (local businesses) and finally the community at large? I would extend this to you Scott as well, as you are our neighbor in Routt County and very important in our growth at all three levels. Thanks, Marilynn
April 20, 2010at 5:18 p.m.
Darcy Trask and Scott Ford
Darcy: Marilynn, thanks for your question. Let me see if I can take this in parts. To best do this, we have to understand each organization, what they're good at and what their mission is, which we do. When we work with an economic gardening client, we assist them in the way we would any small business, but we have the benefit of being able to refer them to MCTA for specific support in marketing and advertising and to the Craig Chamber for specific support in visitor services. EDP sees tourism as a critically important segment because, although it may not be a high-paying industry, it brings new dollars into the community and is there for a primary industry.
April 20, 2010at 5:28 p.m.
Darcy Trask and Scott Ford
Scott: Focusing on what makes it easy for the developing business. There is more than enough work to be done to to make the garden grow. The danger comes when we lose that focus.
April 20, 2010at 5:30 p.m.
Moderator
Well our time is up. Thank you so much, Darcy and Scott, for taking part is this online chat. This has been a wonderfully educational session. Do you have any final thoughts you'd like to share?
April 20, 2010at 5:33 p.m.
Darcy Trask and Scott Ford
Darcy: I would like to strongly encourage folks interested in the local economy to look to two important documents: Dr. Richard Wobbekind's PowerPoint presentation and the new Yampa Valley Partners Community Indicators, particularly the economic forecast newsletter. And I'd like to invite anyone who has input for EDP to come to our board meeting tomorrow (Wednesday, April 21) at 11:30 a.m. at the Moffat County Courthouse.
Scott: I see probably far more opportunities. Our challenge isn't lack of opportunities. Our challenge is to sort out what opportunities are best for us.
April 20, 2010at 5:35 p.m.