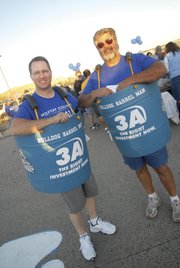 Former Mayor Dave DeRose will be available to answer questions about Referendum 3A, which asks voters to pay for the construction costs for a new middle school and upgrades to other Moffat County School District schools
This chat has already taken place. Read the transcript below.
Moderator
Its a 5:50, Dave will you be ready at 6?
November 1, 2007at 5:49 p.m.
Dave DeRose
Yes I am
November 1, 2007at 5:50 p.m.
Moderator
Welcome to tonight's Web chat. Dave DeRose is going to be talking to us about the school bond. I am Jerry Raehal, editor of the Craig Daily Press and moderator of this chat.
November 1, 2007at 6:01 p.m.
Moderator
Dave are you ready?

November 1, 2007at 6:02 p.m.
Dave DeRose
Yes

November 1, 2007at 6:05 p.m.
Moderator
Those wishing to ask questions please remember that you may have to refresh your page every once in a while, and to be patient answers questions.
November 1, 2007at 6:05 p.m.
When this school bond is totally paid off, has the school district committed in PUBLIC WRITING or within the Referendum 3A that the amount taxed for this purpose will be eliminated? If not, why hasn't this been part of the issue? If not, what will these taxes be used for?
October 20, 2007at 1:47 p.m.
Dave DeRose
Yes it will be eliminated when the bond is paid off. The language is in the Ballot question near the end of the last paragraph. ...Taxes shall be levied... SUFFICIENT to pay the principal of, premium, if any, and interest on such bonds...Also C.R.S. 22-45-103 (1) (b) IV...States that money in bond redemption fund shall only be used for the payment of principal and interest on obligations of the school district having a term greater than one year and approved at an election, which obligations constitute an indebtedness of the school district.
November 1, 2007at 6:06 p.m.
Do you believe it is wise to ask for this amount of money when we live in a boom or bust economy?
November 1, 2007at 5:51 p.m.
Dave DeRose
Yes I do. The reason I have for that is we are in need of school infrastructure improvements and we
must do this for the future of our community. The use of a Mil levy will provide a tax driven income that will allow a repayment of the bond. Also a major portion of this will be paid by the top 10 taxpayers in Moffat county and these are the energy driven companies that contribute to the boom and bust.
November 1, 2007at 6:11 p.m.
Moderator
What happens if the school bond fails?
November 1, 2007at 6:11 p.m.
Dave DeRose
The large-scale repairs and renovations identified for completion with the passing of the bond election simply cannot happen with the present level of funding. The district's ability to address its capital needs (equipment and facility repairs) will be reduced to absolute essential maintenance and equipment purchases. If the bond issue fails, we will be forced to use money from our operational budget (salaries, supplies, utilities, services) to meet capital needs.
With our low per pupil funding, coupled with the loss of over 400 students through the last decade, Moffat County School District has had to make some tough financial decisions. The school board has elected to prioritize expenditures and allocate funds toward programs and instruction. Last year, the school board opted not to allocate the usual additional $200,000 to capital expenses and use the money to pay for instructional programs and operations. Therefore, repairs to facilities were very limited and we froze all but essential capital equipment expenditures. This was a stopgap strategy that is not a long-term solution. Paying for our instructional needs on the back of our capital improvements cannot become standard operating procedure.

November 1, 2007at 6:13 p.m.
There is alot of debate about exactly how much growth Craig can plan on seeing in the next 10 years. What figures is the school district using in consideration to what the building plans should be?
November 1, 2007at 6 p.m.
Dave DeRose
You are correct and I hope and pray we will have a nice steady growth for the next few years that contribute to the strength of our community. We have planned for an approximate 20% growth with this construction and part of that is met with the reconfiguration of the school education models.
November 1, 2007at 6:17 p.m.
Moderator
If you're planning on 20 percent growth, what is wrong with adding modulators for classrooms to handle the expected growth?
November 1, 2007at 6:17 p.m.
Dave DeRose
The main purpose of this bond is to facilitate the upgrade of our infrastructure and these are real and present needs. A side benefit of this facility upgrade is the ability for increased student population within our present structures. This increase is within our present class size models. Modulars are not an acceptable means of addressing the needs of our facilities but are of course a possible stop gap measure for a large boom of student population in the future. We are planning this to provide viable buildings for the next 30 years.
November 1, 2007at 6:24 p.m.
Moderator
There has been a lot more outspoken debate on the hospital measure, but not as much on the school's. What is your take on where the school measure currently stands heading into the election, and do you think that having both tax questions on the ballot will hurt the 1A's chance?
November 1, 2007at 6:25 p.m.
Dave DeRose
I am not a fortune teller but of course I feel that both issues need to be addressed. I of course am
hoping that both pass and that is my personal take on the situation. I can say this, that in the late 70's and 1980 we were building both a new high school and elementary school and a complete new hospital wing. This was of course before TABOR and some of the other tax laws.
November 1, 2007at 6:29 p.m.
Moderator
Some have said the ballot language is confusing, and others have accused of it being misleading; can you give a synopsis of the ballot measure to clarify these questions from your perspective?
November 1, 2007at 6:30 p.m.
Dave DeRose
The ballot language is mandated by the TABOR amendment and I agree is confusing. We have no control over that as we filled out the template for the TABOR amendment. To simplify our request we are asking for the 29.5 Million to upgrade the facilities along with the interest to pay off the bond. This will address the 5 major needs we have clearly stated in the question and the tax will retire when the bond is paid or at the scheduled 20 year cycle.
November 1, 2007at 6:36 p.m.
This is a big project for Craig, there is the potential for alot of jobs for locals. Is there any plans to keep this project on a "shop local" theory, or is that even possible?
November 1, 2007at 6:30 p.m.
Dave DeRose
Yes there is. In all preliminary discussions the board and administration of the school district have made it a priority to include local contractors and any sub contractors that are available in Craig.
This will remain a priority for the duration of the project.
November 1, 2007at 6:41 p.m.
Moderator
In your opinion, how has TABOR impacted the school district's ability to function?
November 1, 2007at 6:42 p.m.
Dave DeRose
TABOR's impact on our school finance has not been nearly as damaging as the 1994 school finance act which put Moffat County at the bottom of the state funding formula. I believe that all of the different tax issues including Gallagher have made it difficult at best for the school system to function. They also impacted all governments in this state.
November 1, 2007at 6:48 p.m.
Moderator
That's it for the questions we have. I want to thank Dave, the participants and readers for spending this time with us tonight. Dave, do you have final thoughts you would like to share?
November 1, 2007at 6:49 p.m.
Dave DeRose
I learned in my experience with the City of Craig that we cannot continue to balance the budget on the back of capital expenditures. I know that we cannot do this for ever and after touring the facilities I believe this is the right investment and I believe it is now. I have said before that the amount for the average homeowner is about the same as two fancy cups of coffee per month and I for one believe our community and our children deserve to have the best we can offer in education.
I want to thank the people who signed on and I also want to thank the leaders of our community who built the High School and Ridgeview Elementary when they did. I look forward to election day and of course I hope you will vote Yes on 3A.
November 1, 2007at 6:56 p.m.